The Real McKenzies & East End Radicals tour
March 04 2013
"My Luck Is So Bad" is the latest video from The Real McKenzies
With St Patty's around the corner The Real McKenzies & East End Radicals are hitting the Canadian west coast. Check all dates w/ ticket links
HERE
You can bet every show on this tour is gonna feel like a raging St patty's day!
You can check out tracks from them both
HERE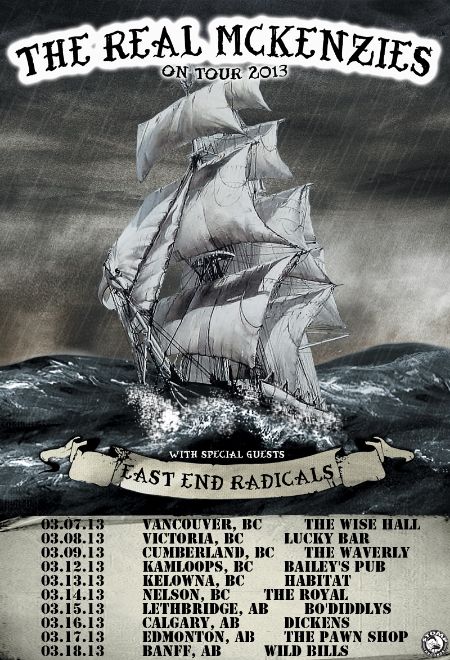 Pouzza Fest 2013 line up announced...
February 26 2013
So many awesome bands have just been announced for this years Pouzza Fest (a combination of Poutine and pizza = genius) a punk fest in downtown Montreal!
Bands on our label playing include:
The Planet Smashers, The Creepshow, The Beatdown, The Hunters, Miracles, East End Radicals & BCASA!
Some other major headlining bands include: Me First & The Gimme Gimmes, Big D and The Kids Table,Slackers, Good Riddance, New Found Glory, Dead To Me, MXPX, The Ataris, and many many more!
You can buy tickets, day passes, and weekend passes here:
PouzzaFest.com
We'll also be hosting a Hangover Breakfast party on the Sunday from 10-1 at Foufounes Electrique!
See ya in the pit!
Stomp's 18th Anniversay Shows
January 29 2013
We finally made it to legal drinking age in Quebec. Phewph!
So to celebrate we have a couple kick ass shows coming up...
February, 15 - TORONTO - Opera House
The Planet Smashers
The Creepshow
Permanent Bastards
Facebook Link
Ticket Link
February, 16 - LONDON - Call The Office
The Planet Smashers
The Creepshow
Rude City Riot
Facebook Link
February, 22 - MONTREAL - Club Soda
The Planet Smashers
The Creepshow
The Brains
Rude City Riot
BOIDS
Facebook Link
Ticket Link
Montreal Ska Festival Announcement!
August 28 2012
The line up for the 2012 Montreal Ska Festival has been announced! With some of our very own:
The Planet Smashers
The Beatdown
The Johnstones
The Fundamentals
As well as some heavy hittin' names like:
DJ Agent Jay (The Slackers)
Mitch Girio
Victor Rice
Ill Scarlett
along with many more!
For the full listing and to purchase tix online go here:
MTL SKA FEST
Also you gotta check out this hilarious promo vid from our buddies The Fundamentals...
See ya there!
Pre-Order The Beatdown's Walkin' Proud Now!
August 20 2012
Be the first kid on the block to get your brand-spanking new copy of "Walkin' Proud" delivered straight to your door hot off the presses!
PRE-ORDER HERE
Free Music from THE BEATDOWN!
August 01 2012
Score the new title track from The Beatdown's upcoming album "Walkin Proud" right here!
WALKIN PROUD
Flatfoot 56's new album "Toil" is out with us today!
July 31 2012
"Sailing in under the guise of celtic punk, the heavily influenced street punkers generated buzz with their weathered tales of the everyday grind, grounding the band's sincerity in their tales of work, exploitation, and faith in humanity." Cole Faulkner -The Punk Site
Check out the full friggin fantastic review here:
http://thepunksite.com/reviews.php?page=album%2Fe_n%2Fflatfoot56_toil
Danny Rebel "Blastoff" out today!
July 03 2012
Danny Rebel & The KGB are about to "BLASTOFF"! with their new CD OUT TODAY! on and epic west coast adventure tour! So be sure to check em and their new tunes, dates, and comic book detailing the first half of their earth destroying adventuring!!
July Releases!
June 05 2012
Consider your summer jams locked in...
We're stoked to announce the release our MTL hommies:
Danny Rebel & The KGB's "Blastoff" on July 3rd
&
The Fundamentals "Get Alright" on July 17!
You can listen to their singles here:
Danny Rebel & The KGB!
The Fundamentals!
And also...
Flatfoot 56 's new album "Toil" out on July 24th!
Check out their catchy new single "I Believe It"
here
Check out all the summer tour dates are right
HERE!
Woo!
Pre-Order Promises from The Hunters!
March 29 2012
Click to pre-order your very own copy of Promises. Full throttle post punkcore awesomeness from Quebec's The Hunters.
PRE-ORDER HERE!
Creepshow
Death At My Door
CD-Digipak $13.99 CDN
CD-Digipak $14.99 US
Buy CD
Creepshow
Death at my Door
LP RED VINYL $34.00 CDN
LP RED VINYL $38.00 US
Buy CD
Joystick!
Sinceriously (digital only)
Digital $0.00 CDN
Digital $0.00 US
Buy CD | Buy Digital
Danny Rebel & The KGB
Lovehaus (digital only)
Digital $0.00 CDN
Digital $0.00 US
Buy CD | Buy Digital